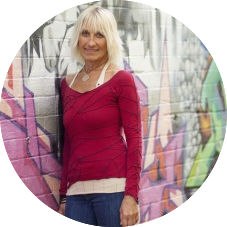 Oh… to live and breathe the ocean, to dance to its song barefoot on the sand under a star filled sky, to live free and carefree with nature, to embrace all the magic of life with arms outstretched, to live with an open heart full of love, to carry the Divine in your heart always…
WELCOME
Liz has lived in magical Manly since 2006, a stone's throw from the beach.  She has had a deep love of the sea and has had an intense fascination with waves since she was a young child.
Liz's work is inspired by the things close to her heart, and by her travels.
She spent much of 2009 on Belongil Beach, Byron Bay where she was regularly graced by the presence of dolphins as she swam, and during migrating season, humpback whales and their calves breeching.  Every day began with meditation on the beach, swimming at sunrise, sipping chai as she watched waves rise and roll to shore, being at one with Nature.
Through her love of meditation and yoga and their philosophy, she also paints lotus flowers which are symbolic of the possibility to survive times of adversity, something very close to her heart. The lotus flower begins as a small flower at the bottom of a muddy, murky pond. It slowly reaches up, growing towards the water's surface, continually moving towards the light. Once it comes to the surface of the water, the lotus flower begins to blossom into the pure, beautiful flower that it is.
The lotus flower is a symbol for awakening to the spiritual reality of life.
In 2010 Liz fulfilled a dream from her early teens, and went to Hawaii to see the famous Pipeline on the North Shore of Oahu.  As she walked from the road down the sandy path onto the beach she was greeted with an unseasonal swell of 12' waves. She spent hours sitting on the beach mesmerised by the beauty and force of Nature, witnessing magnificent waves rising and crashing on shore in sets.   Visions of spectacular waves formed memories that will last eternally.
For Liz, love is the only way to live.   That love is everything that is Nature.  Every day Liz sees the magic of life.  In beautiful Manly where the surf is a breath away, the bush a few minutes walk.  During time spent in Belongil, the ocean an extension of her backyard, where she would sit on the beach to watch the sun fill the sky with its shining beams of  light and colourful palette as it rose, where a canopy of sparkling stars hung in the night sky.
On her regular visits to India, the home of her soul, which is a feast for all the senses and more with vibrant colours, wafting smells of spices and incense that fill the air.  In Rishikesh, her true home, where beloved Ganga flows with the glistening rays of Surya glowing gold upon her.  Liz draws inspiration from the many road trips she has made and continues to make each year through India, a country full of contrast and chaos, but where she feels deep peace in her heart.  In 2011 Liz spent five months in Rishikesh and the Himalayan mountains meditating and studying and returned to Australia a teacher of Vedic meditation.  Check out her website:  www.vedicmeditationmanly.com.
Liz feels immense gratitude for this gift of life.  The sea,  meditation and yoga are one for Liz, food that sustains her Spirit, her essence. Every day, she sees extraordinary in the ordinary.